Razor Wire Concertina Coil
Product Description
Cheap Razor Barbed Wire/razor wire/concertina razor barbed wire(China factory)
Material:
S.S
Size:
BTO-22 Single ,Cross type Sample Free

Cheap Razor Barbed Wire/razor wire/concertina razor barbed wire(China factory)
Material:
hot galvanized steel wire 2.5mm and hot galvanized iron coil 0.5mm thickness
Manufacture process:
frist press by perforated machiney, second wrap by machiney
Razor barbed type:
long blade CBT-60 or CBT-65 short blade BTO-10 ,BTO-12,BTO-18,BTO-22,BTO-28,BTO-30
Gauge:
1.4mmx1.4mm,1.5mmx1.5mm,1.6mmx1.6mm,1.8mmx1.8mm,2.0mmx2.0mm,
2.5mmx2.5mm,2.5mmx2.0mm,2.0mmx1.6mm,2.5mmx2.2mm,etc
Material:
medium-carbon steel wire, rolling galvanized sheet.
It is divided into linear, crossover, linear coiling,cross coiling and cross.
Coil diameter:
500mm, 600mm, 700mm, 800mm, 900mm,1000.or according client request
Weight:
10kg/coil 8kg/coil 20kg/coil
Packing term:
simple packing term , or accoridng client request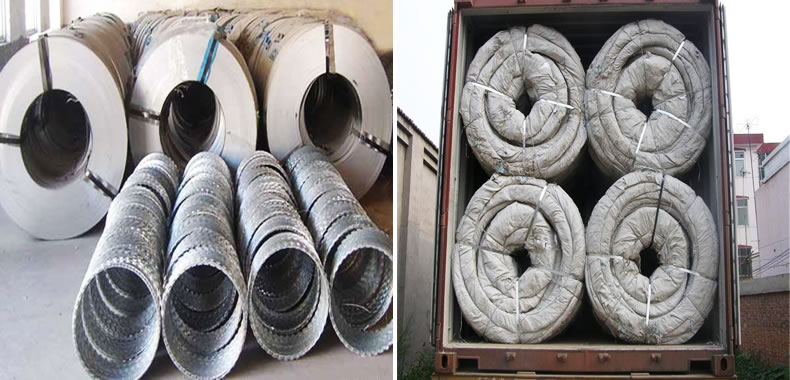 Feature:
Strong protection ability and good ability of threats, convenient installation, long service life
Application:
used for boundary segregation, military facilities,prisons,villas,military bases,the safety facilities such important state protection.

Note:
lengh,diameter can be made according to customer requirements.
Quote needed data:
material+thickness+core wire diameter+blade length+ blade space+package
Finish:
Electro galvanized, Hot dipped galvanized, PVC coated
Razor blade type and speciafication
reference number
thickness(mm)
wire diameter(mm)
barb length(mm)
barb width(mm)
barb spacing(mm)
BTO-12
0.4±0.05
2.5±0.1
12±1
15±1
26±1
BTO-15
0.4±0.05
2.5±0.1
15±1
15±1
33±1
BTO-22
0.4±0.05
2.5±0.1
22±1
15±1
34±1
BTO-30
0.4±0.05
2.5±0.1
30±1
18±1
45±1
BTO-25
0.4±0.05
2.5±0.1
25±1
16±1
40±1
BTO-60
0.5±0.05
2.5±0.1
60±2
32±1
100±2
BTO-65
0.5±0.05
2.5±0.1
65±2
21±1
100±2
Specification:
Razor Barbed Tape Wire Specification:
Outside Diameter
No. of Loops
Standard Length per Coil
Type
Notes
450mm
33
8M
CBT-65
Single coil
500mm
41
10M
CBT-65
Single coil
700mm
41
10M
CBT-65
Single coil
960mm
53
13M
CBT-65
Single coil
500mm
102
16M
BTO-10.15.22
Cross type
600mm
86
14M
BTO-10.15.22
Cross type
700mm
72
12M
BTO-10.15.22
Cross type
800mm
64
10M
BTO-10.15.22
Cross type
960mm
52
9M
BTO-10.15.22
Cross type
Razor wire concertina coil is made of metal strips,die stamped to create sharp razor barbs at regular intervals and formed around high tensile core wire, and this razor wire comes in concertina coil format.High tensile core wires make it very difficult to cut through ordinary tools.
Concertina razor wire is a type of razor wire that is formed in large coils which can be expanded like a concertina and each coil can be clipped together(or without clipped) at multiple points, Making it difficult for intruder to intrude without having it cut at multiple points,thus giving more respond time to security forces.
Previous:No more!!
Next:No more!!