Black Annealed Wire
1. Black annealed wire
Material: Q195, Q235
Wire Diameter: 0.265mm-1.8mm
Tensile stength: 340-420N/mm2
2. Surface treatment

annelaed (800 degree for 6 hours annealing ,very soft ,easy to binding )
We use high quality carbon structural steel wire rod Q195, Q235 etc as raw material to manufacture black annealed wire, through drawing, annealing and package

3. Specification of Black annealed iron wire
(1)
Material: high quality low carbon steel wire Q 195,Q235
(2)
Diameter: BWG35-BWG6(0.2mm-5.0mm)
(3)
Weight: 0.1-800kg/coil
(4)
Tensile strength: 35-70kg/mm2
(5)
Elongation rate: 10%-25%
(6)
Usege: Mostly used in construction and daily use as binding wire,tie wire and baling wire.Twisted wire is widely exported to Israel,Turkey and Brazil.
(7)
Stands of twist wire: 1x2,1x3,1x6,1x7
5, black annealed iron wire trade terms,
Minimum order quantity: 20tons

Black Annealed Wire is made of low carbon steel wire, used for weaving, baling in general, applied for home use and the construction.
Black annealed wire is obtained by means of thermal annealing; endowing it with the properties it needs for its main use - setting. This wire is deployed both in civil construction and in agriculture. Hence, in civil construction annealed wire, also known as "burnt wire" is used for iron setting. In agriculture annealed wire is used for bailing hay.
We offer two kinds of annealed wire, bright annealed wire and black annealed wire.
Black annealed wire is mainly processed into coil wire, spool wire or big package wire. Or further straightened and cut into cut wire or U type wire. Annealed wire is used as tie wire or baling wire in building, parks and daily binding.
Packing:
Spools, coils.
Wire Diameters:
5mm to 0.15mm (wire gauge 6# to 38#).
Features:
Black annealed wire is rust proof within 6 months without any oil coating.
Application:
Black annealed wire is mainly used as industrial wire, construction wire, industrial bale tie wire and constructional tie wire, etc.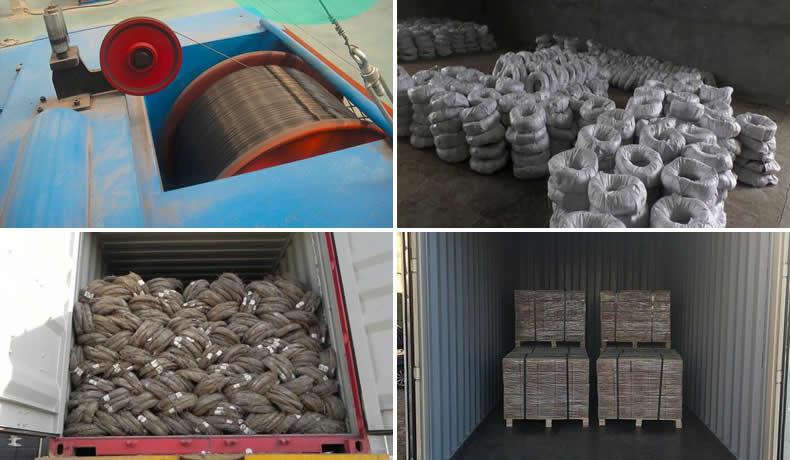 Soft Black Annealed Wire
Wire Diameter
Strength
Packing
Weight
Application
0.16mm-0.6mm
30-40kg
Coils or spools
2-100kgs
Binding wire
0.6mm-5.0mm
30-40kg
Big package
100-800kgs
0.16mm-0.6mm
60-70kg
Coils or spools
2-100kgs
0.6mm-5.0mm
60-70kg
Big package
100-800kgs
Previous:No more!!
Next:No more!!