PVC
Material:
PVC is produced with quality iron wire (hot dipped/electric galvanized wire and
annealed iron wire)
Wire Gauge:
Core wire diameter 1.0mm-3.5mm, Outer wire diameter 1.4mm-4.0mm
PVC coating thickness:
0.4mm-0.6mm
PVC Coated Iron Wire Size:
from 0.7mm to 4.0mm
Property:
excellent corrosion resistance, antiaging property and longer service life.
Colors:
PVC Coated Wire common colors available for PVC coated wire are green and black, other colors also available on request.

Application:
PVC coated wire is used in the construction of chain link fence for industrial security fences, freeways and tennis courts; it is also used in other applications such as coat hangers and handles.
Packing:
3.15Ibs,3.125 Ibs,2.5 Ibs,3 Ibs16 coils or 20 coils per carton24 cartons or 36 cartons or 48 cartons per pallets13 pallets or 20 pallets or 24 pallets per 20GP.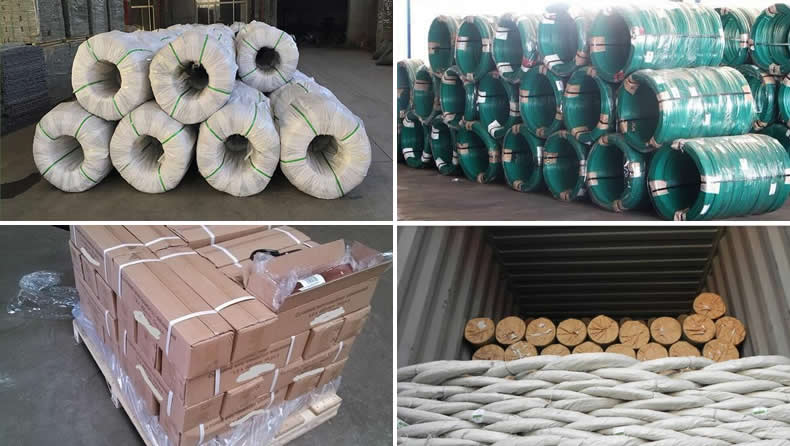 Wire range
wire gauge
8#-24#,4mm-0.55mm
Plastic thickness
0.4mm-1.5mm
Wire tolerance
+0.05mm/-0.05mm Max
Coat
PVC, vinyl or PE (on request)
Color
green, black, white, grey and etc (on request).
Technical information
Tensile strength
350N/MM2-550N/MM2(soft)
600N/MM2-900N/MM2(hard);
Elongation:8%-15%
Fabricatedprocess
Wire rod-Drawn wire-Annealed-Acid washing-Galvanized-PVC coated-Wire coiling
Previous:No more!!
Next:No more!!